Cotton Claw
Dusted EP
Album Description
Real live band, each on his pad controller, Cotton Claw takes us into their world tinged of powerful club music
Cotton Claw is a brand new project that brings together four french producers : Lilea Narrative, Zo aka La Chauve-Souris, YoggyOne and Zerolex. Real live band, each on his pad controller, Cotton Claw takes us into their world tinged of powerful club music, fluffy house music using massive analog synth, unstoppable arpeggios and sexy granular melodies.
Each member of Cotton Claw has a solo career for several years, album releases, hundreds of dates to them all, collab, remixes. With their experience in their solo project, the four members of Cotton Claw, have met in order to to play together each part in live, to create a new modern live band, to take and give pleasure to the dancefloor, and give their vision of club music.
---
Cotton Claw est le projet né de la rencontre de 4 producteurs : Lilea Narrative, Zo aka La Chauve-Souris, YoggyOne and Zerolex. Véritable live band, chacun derrière leur contrôleur Pad, Cotton Claw nous délecte d'une musique Club puissante, d'une House feutrée basée sur des synthés analogiques massifs, des arpégiateurs inarrêtables et des mélodies granulaires sexy.
Chaque membre de Cotton Claw a une carrière solo depuis plusieurs années, des sorties d'albums, remix, et des centaines de dates à leur actif. Avec cette expérience, les quatre producteurs ont décidé de former le projet Cotton Claw dans l'objectif de jouer ensemble chaque partie en live, sans aucunes séquences, de créer une forme de live band moderne, en donnant leur vision d'une musique Club.
Get This Release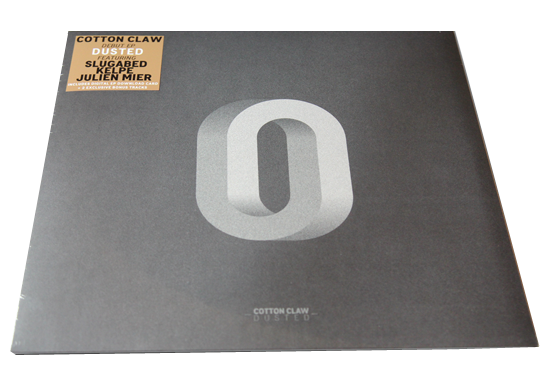 Purchase Limited 12″ Vinyl
Cascade Shop worldwide
Amazon worldwide
Fnac france
HHV de
Jet Set japan
Gibert Joseph france
colette Paris france
DOWNLOAD Digital album on
Bandcamp
iTunes
Beatport
Deezer
colette Paris
Videos
Listen Free Teaser « Dusted » mixed by Yoggyone
PRESS
« Pedro Winter aka Busy P, le créateur du prestigieux label Ed Banger, est résident au Mouv' et cette semaine, il nous envoie du Cotton Claw … »
La sélection de Pedro Winter – Le Mouv'
---
« Quoi qu'il en soit, le groupe réussit sa première date parisienne et même presque trop proprement, nous rappellant qu'à Besançon et Caen (les deux villes dont les beatmakers sont issus), il existe une vraie scène électronique. Il serait dommage de passer à côté. »
---
« Six tracks, trois remixes, mélangen de puissance et d'une certaine mélancolie, qui ne sont pas qu'une simple carte de visite, mais bien un ticket d'entrée qui donne envie d'aller les voir sur scène. »
---
« Les quatre Français de Cotton Claw sont les très excitants représentants de la nouvelle génération de beatmakers, option groove râpeux et beats technoïdes. Un sens du rythme imparable et une efficacité à tout épreuve qui font que la relève des Birdy Nam Nam est sans coup férir assurée. »
---
« Un six titres sexy où se mélangent beaucoup d'influences. Du Hip Hop feutré à la house music vitaminée aux synthés analogiques. Le résultat est groovy et « barré » comme il faut, la magie de la collaboration fonctionne parfaitement. »
---
« Le bien nommé Dusted est le premier album du quartet bisontin Cotton Claw et il dépoussière effectivement l'exercice de la musique électronique à quatre. »
---
« Cotton Claw est un nouveau super groupe formé par les beatmakers français : LileaNarrative, Zo aka La Chauve-Souris, YoggyOne et Zerolex. »
---
« A l'heure où les collectifs de beatmakers se multiplient sur la toile, il reste difficile de trouver des projets intéressants et prometteurs. Cette semaine direction Besancon à la rencontre de Cotton Claw, réunion de quatre producteurs surdoués »
Radio Grenouille: HANGTIME SAISON 6 : Special Guest COTTON CLAW
---
« L'attente commençait à être difficile, les jours se faisaient de plus en plus long… Tout va mieux maintenant. « 
---
« Suzanna even features some veritable G-funk grooves that ought to make Dr. Dre himself jealous. Taken as a whole, DUSTED is a remarkably self-assured debut from a very promising group. »
---
« Des découvertes comme ça, on en veut bien tous les jours. »
---
« Avant tout destiné à rompre genoux et bassins en club, les odes électro hip-hop du quartet bisontin ont trouvé via Cascade Records et l'EP Dusted un accueil au-delà de toute espérance. C2C et Birdy Nam Nam pointent à Pôle Emploi, on ne va pas s'en plaindre. »
---
« Incluant les remixes de Slugabed, Kelpe et Julien Mier, l'EP propose des beats où la partie analogique est bien accentuée, on y retrouve de la house, des choses bien plus downtempo pour un rendu global plutôt convaincant. »
---
« Slugabed offers up an astute take on Naked, isolating the original's vocal parts before crafting a grandiose, colourful stomper.  »
---
« Lorsque 4 bisontins se rencontrent, avec 4 univers propres à chacun, une maîtrise totale de leurs machines, ça donne un projet de fou furieux »
---
« French label Cascade is set to release Cotton Claw's debut EP Dusted on February 24, featuring six original productions and remixes from the likes of Slugabed, Kelpe, and Julien Mier »
---
« D U S T E D is most certainly one of the most unique and exciting releases so far this year. It bends genre in interesting ways, and brings to the forefront the MPC as musical instrument and the idea of hip hop/electronic producer "bands." On top of all that, it's hella fun to listen to. »
---
« Cotton Claw takes us into their world of tinged sounds of powerful electronic club music, fluffy house music using massive analog synths, unstoppable arpeggios and sexy granular melodies.  »
---
« On connaît déjà le nom du futur opus, « Dusted« . On est comme des piles en attendant cette sortie qui, nous l'espérons (et en même temps on en doute pas), sera une grosse tuerie.  »
---
«  »Suzanna » de Cotton Claw en primeur sur Camuz »
---
« he original mix has not yet surfaced on the Internet, but if Mier's frantic, bubbling interpretation is any indication, the world might not be ready for what Cotton Claw is about to unleash. »
---
Chuuch , February 12, 2014 review – READ
| The Block , February 8, 2014 Hosted by Peter Curtin. – LISTEN | Pingpong radioshow , January 28, 2014 Hosted by Kptoon & Dj Olive . – LISTEN | Basic Soul Radio Show , February 10, 2014 Hosted by Simon Harisson – LISTEN | Dubmission Radio Show , February 22, 2014 Hosted by Kerem Gokmen – LISTENGRAPE MAGAZINE , January 22, 2013 – LISTEN
Info
All Music Written by COTTON CLAW
Editing and mixing by BARRY GARDNER
Recorded at Paris ~ London
Art Direction and Illustration by EASE
SEO&WEB by Joe Art
A&R by Sal Martin
Booking Agent : Benoit Haran
Allofloride.com/tour/artistes/cotton-claw/
All Rigths of The Producers, Artworkers and Cascade Records Of The Work Reproduced Reserved.
CR010 [P]&[C] February 2014 CASCADE RECORDS