Holy Two & Zerolex
Eclipse (EP, Vinyl, Digital)
Album Description
Eclipse is the project born from the meet between Holy Two & Zerolex, for a unique challenge of mixture of musical genres Pop/New-Wave and HipHop/Beat/Electronic! A kind of visionary sound experience with the hot and airy Elodie's voice to jazz keys, gospel and rapped at times with beautiful sounding to Alt-J, Bon Iver, Patti Smith, Amy Winehouse, Billie Holiday …
If the union between Two Holy & Zerolex may seem unlikely at first,
their universe doesn't make them incompatible. Proof in music with
this release offering original tracks, remixes and exclusives.
Distilled with care and patience, this project intend to surprise
and bring together different the public .
It is also and above all motivated by a personal desire to produce challenging new things through a different musical genre.
---
Éclipse est le projet né de la rencontre et de la fusion entre Holy Two & Zerolex, pour un défi unique de mélange des genres Pop/New-Wave et HipHop/Beat/Electronic. Une expérience française sonore visionnaire avec la voix chaude et planante de Élodie aux touches jazz, gospel et rappé par moments avec de belles consonances à Alt-J, Bon Iver, Patti Smith, Winehouse Amy, Billie Holiday…
Si l'union entre Holy Two et Zerolex peut paraître improbable au premier abord, leurs univers respectifs ne sont pas pour autant incompatibles. Preuve en musique avec cette sortie commune qui propose morceaux originaux, remixes et exclusivités. Distillé avec soin et patience, ce projet a bien l'intention de surprendre et d'amener les publics à se mélanger. C'est aussi et surtout un défi personnel motivé par l'envie de produire de nouvelles choses, à travers un genre musical différent.
Listen Free Teaser « Eclipse » mixed by Zerolex
Get 'Eclipse' Release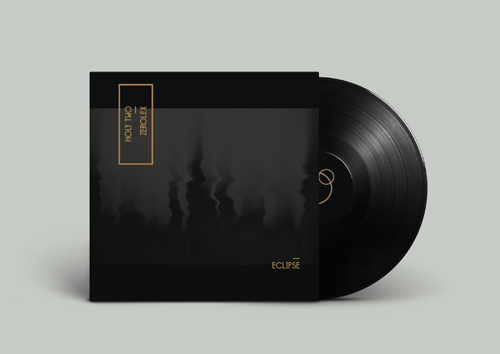 Purchase Limited 12″ Vinyl
Big Wax worldwide
Bandcamp worldwide
CDandLP.com worldwide
hhv.de de
PRESS
"Nos lauréats 2014 viennent tout juste de sortir leur nouvel EP "Eclipse" et on craque sur le remix "Rush" du Bisontin Zerolex. Ce duo lyonnais se lance à corps perdu dans une odyssée electro pop aussi émouvante que nébuleuse. »
---
"Un duo électro-pop planant et un jeune beatmaker pour un morceau hybride et addictif à souhait. »
---
"Éclipse rentre tambour battant dans le paysage artistique de cette fin 2014. La combinaison apporte un nouvel élan à la scène électronique française. »
---
"It's always nice when you get a mix of lovely music and lovely visuals, isn't it? Yes it is. And with that said, I'd like to introduce French girl-boy duo Holy Two. They're from Lyon, their real names are Elodie and Hadrien, and this track-video combo is called 'Moonbeam' – a collaboration with another French artist, a producer called Zerolex (who features heavily on the duo's latest EP, Eclipse). »
---
La grosse claque vidéo du jour revient sans aucune hésitation à celle de Holy Two et Zerolex pour le titre Moonbeam. Un clip qui tombe à pic en vue de la sortie aujourd'hui même de l'EP de Holy Two, Eclipse.. »
---
"Eclipse is the kind of record you want to listen to late at night. It will drive you to an etheral and spatial sphere – out of time & out of space. »
---
"De la pop aérienne aux accents XX, voilà comment on pourrait rapidement résumer le son des Holy Two. Le mieux est encore d'écouter ce nouvel enregistrement. »
---
"Le duo lyonnais endort en une paix sensuellement transmissible des chansons des Strokes ou de Phoenix (…) Les chants d'Elodie et d'Hadrien servent de brise-glace, ouvrant des voies vers le monde des rêves (…) »
---
"Holy Two s'impose en rejeton de la génération « The XX » à peine un an après son tout premier concert. »
---
Infos
All Music Written and Produced BY HOLY TWO
Excepted Tracks A3, B1,B3 Written AND Produced with ZEROLEX
Mixed BY VICTOR MALÉ
Mastered BY BARRY GARDNER
Original Photos BY TONI LANGE
Art Direction & Cover Design by CRAW
Executive Produced by JOE ART & SAL MARTIN
All Rigths of The Producers, Artworkers and Cascade Records Of The Work Reproduced Reserved.
CRT012 [P]&[C] November 2014 CASCADE RECORDS